We spend a huge amount of our workday in meetings. Middle managers are estimated to spend about 35% of their workday in meetings. Executives can spend as much as half their day in meetings. That's a lot of time!
A lot of wisdom has been shared about designing and running effective meetings. Yet few resources offer advice on the meeting room itself. The meeting room is a core piece of the meeting experience. Effective meeting room design can impact and change your entire meeting.
Well-designed meeting rooms can put attendees at ease, encourage conversation, and induce creativity. Mindful meeting room design can drastically improve effectiveness of your meetings.
The Purpose of the Room
The key to designing meeting rooms is to understand your team's needs. Firstly, decide on size and location of the room. Some key questions to answer here are:
What will the room be used for? Are these going to be smaller, collaborative rooms or do you need a full size boardroom?
How does your team like to work? Do they work in small groups or do they work in large teams?
Is this room meant to be client facing, or is it for internal use only?
Does this room need to be within easy access from employees, or does it need to be located further away for additional privacy?
Taking a step back to look at use cases allows you to begin tailoring your meeting rooms to the way that your organization works.
In addition to understanding how employees prefer to collaborate, it's also important to understand where they like to collaborate. Meeting room analytics such as average meeting size and room utilization rates will help you determine the size and number of rooms you need.
Once you decide on placement and size, you can use your understanding of the purpose of the room to further enhance its design.
Equipping the Room
Essential equipment should be evaluated before moving onto more creative aspects of meeting space design. Fleshing out these essentials, based on user needs, will help provide a base for your creative choices.
Here are some considerations to keep in mind when building out your equipment requirements.
Furniture
It's important to understand how the room will be used and identify key requirements. For example, will people need to move the chairs around and swivel to look at a screen? If so, a requirement might be chairs on casters that can swivel. Alternatively, if the room is meant for creative work, you might want to provide alternative seating that encourages more freedom.
As for tables and surfaces, consider not just size, but usage. Would people be primarily standing or sitting in their meetings? If they use the room for standing meetings, you might require a standing or height-adjustable table. Do the tables need to be moved?
Additionally, think about power and power access. Do you need power access through the table for other equipment? What about charging outlets for attendees with mobile devices – this could include USB charging ports or wireless charging.
Beyond choosing the right table and chairs for the meeting room, there are some other furniture considerations. For example, do you need in-room storage for meeting supplies? Do you need whiteboards?
Check out the Google Ventures design war room in the video below and see how the purpose of the room changed the design and furniture requirements.
Technology
As our world becomes increasingly digital and mobile, audiovisual equipment is now key to the meeting experience. Some core pieces to include in your technology selection include screens/displays and communication devices.
Again, consider how that technology will be used in each room. Not every room requires a screen or a communications device, and rooms should be appropriately outfitted based on their purpose. Some rooms might benefit from a traditional whiteboard and marker, while others might require advanced teleconferencing tools such as high quality cameras and microphones. Most rooms might simply need an easy to use AV presentation system.
Meeting rooms are typically high demand spaces in the office. Poor planning regarding booking processes can lead to unnecessary tension and conflict in the workplace. Beyond displays and communication, an important aspect to consider is how meeting rooms are booked and used.
Tools such as digital displays installed outside the meeting rooms and sensors to detect room occupancy can help alleviate some of these conflicts in the workplace and improve productivity.
Lighting
Lighting is crucial to the meeting room experience. Excessively soft lighting might result in participants dozing off. On the other hand, harsh lighting might not be conducive for reading and viewing of screens.
Once again, understanding the purpose of the room is crucial in building lighting requirements. For rooms that are designed to be comfortable, cozy spaces, softer lighting is often necessary. Large boardrooms might require more brightness, and rooms with projectors might require dimming lights.
Lighting is also heavily dependent on the location of the room. If the room has a lot of natural light, you might have to look at reducing lighting with blinds. For rooms without windows, light must be a primary consideration in room design.
Sound
Sound management is often one of the most neglected pieces in meeting room design. Meeting rooms that are designed without consideration for sound often result in unwanted side effects.
This could include echoing and reverberation, scraping from moving furniture, or feedback between microphones and speakers.
Acoustic controls are now available in a variety of designs that add to the feel of a meeting room, rather than take away from it. Wall mounted acoustical panels are effective at keeping sound in, as are ceiling mounted baffles. If it's sound from outside the meeting you want to keep out, look at using similar solutions throughout your office to reduce sound reverberation.
Fleshing out the rest of the meeting room experience
Once you've finished designing and implementing the physical environment of the meeting room, the next step is to consider and design the full meeting experience. You will want to think about how people use the room, from start to finish.
Firstly, how do people reserve and book the meeting rooms? Are only specific teams allowed to use specific rooms? Do you require a dedicated staff member to manage these rooms and requests? We recommend using a meeting room booking system such as Workscape to make booking rooms simple for your team. This will help you avoid scheduling conflicts and ensure smooth processes in using the room.
Second, how do people use amenities that are in the room? Are your audiovisual tools easy to start and use, or do you need a technical team member available to set up these meeting rooms beforehand?
Some other ideas to consider:
Would you stock refreshments in each room?
If the room requires additional privacy but has glass walls, would you need to add privacy blinds?
Finally, how would you know when the meeting ends and the room is available? Do you need a team member to clean up the room after each use? What if a meeting ends early? Would you be able to use that additional time for other meetings? Workscape can help with this by using smart sensors. It is simple – just plug the sensors in and Workscape will inform you when a meeting ends early, or if not one shows up for a meeting.
Get Creative!
Once you firm up the hard requirements for your meeting rooms, you can get creative in your meeting room designs.
The key here is to enhance your corporate culture and identity with your meeting room experience. Keeping your equipment requirements and room goals in mind, choose furniture, paint, and decorations that match your corporate culture and the image you want to convey.
Struggling to get creative? Here are some ideas on how you can inject your company culture into your meeting room design:
Color scheme
Color can change the experience of a room. Using official company colors is a classic way to match the meeting rooms and echo the company brand experience.
For more formal boardrooms and conference rooms, neutral colors are always a good choice. Despite being formal, you can spice up the room with a kick of color. For example, Resignation Media's office in Texas maintains formality in their meeting rooms with neutral gray, white and black. To add a bit of personality to the room, the firm opted to go with with multi-colored chairs.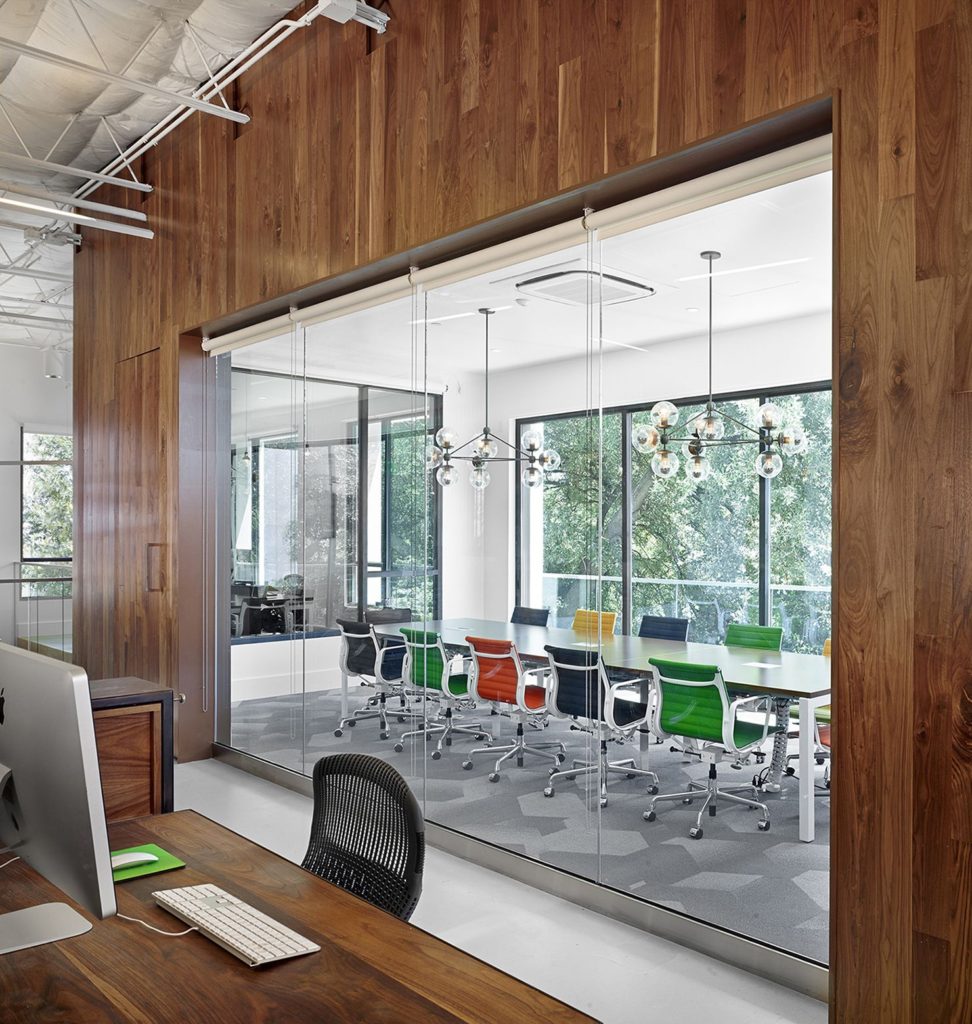 Unconventional color choices can be used to express company culture and influence meetings as well. Strong colors such as red and orange can evoke excitement and even aggression, and might be suited to encourage teams working towards competitive targets.
Other colors such as green and blue can be calming and refreshing, and help alleviate some of the tension in charged meetings. Yandex's meeting room in Kazan uses yellow-green to create a refreshing, soothing space for relaxation and more casual conversations.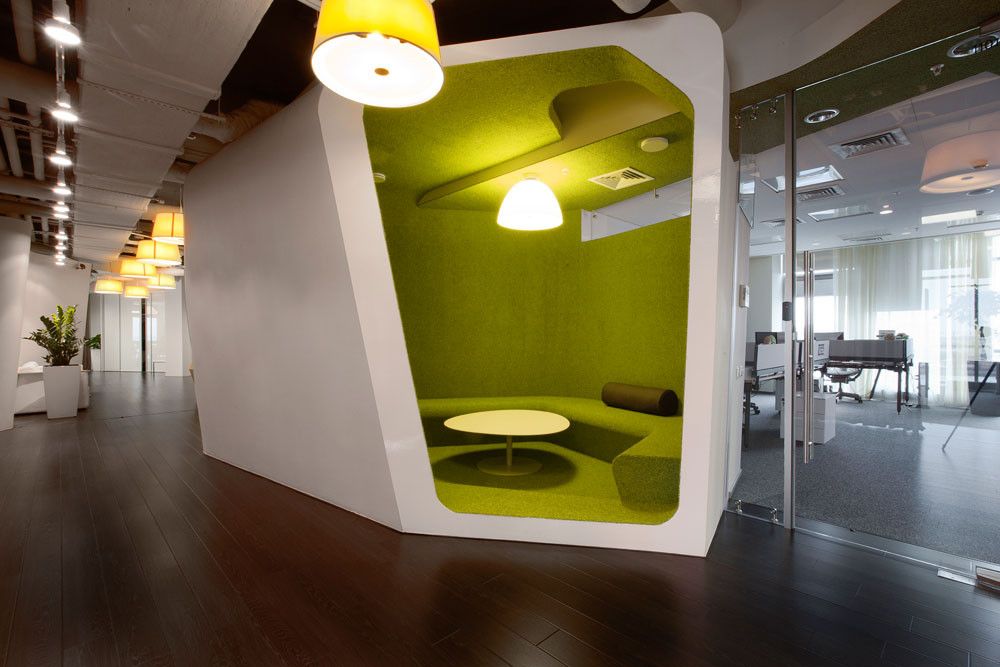 Materials
Similar to color, materials can change how a space is perceived. Glass and chrome can often push a modern, clean look. On the other hand, wood is extremely versatile and can be used in many applications. The right wood can bring warmth into the room and add some rustic charm. X3's office in Romania converts an attic into a charming, cozy space with the use of wood beams and tables. Comfy chairs further add to the cozy warmness.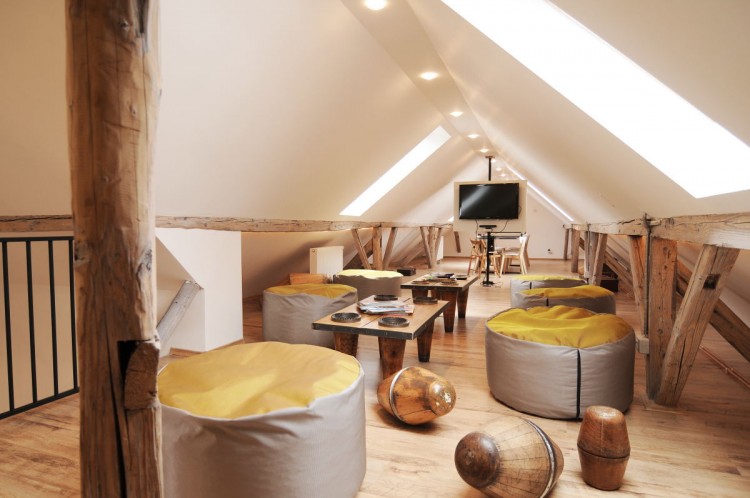 By blending colour and materials, you can shape how the space feels. True North Mortgage in Dallas uses glass and white to portray a clean, modern meeting room.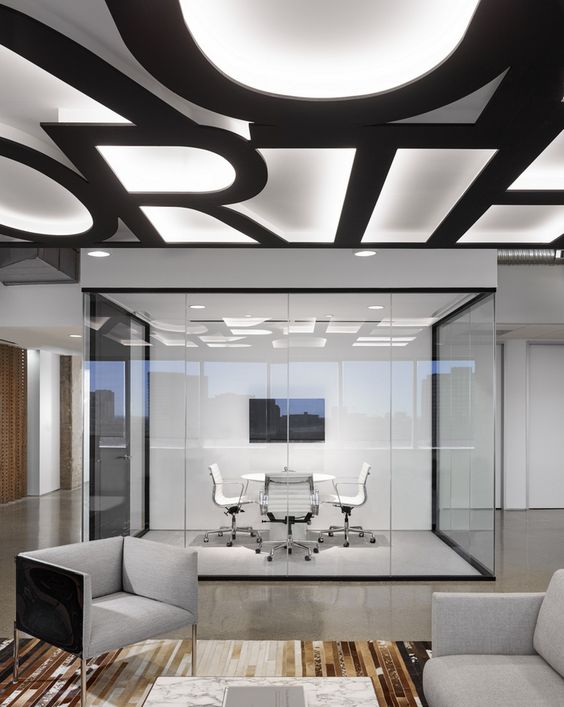 On the other hand, Rocket Fuel Chicago uses a similar design, but selected a fun lime green as their primary color. This creates excitement and energy, contrasting with True North Mortgage's clean white.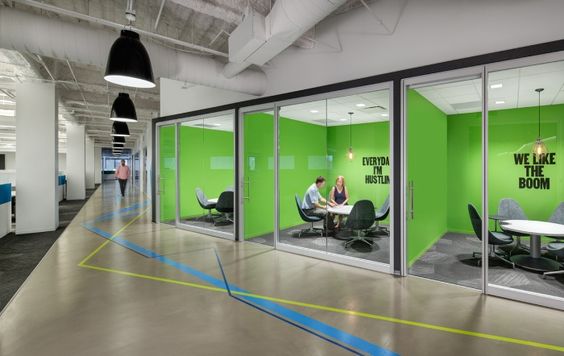 Tie Your Space to Your Company
Tying the space to the company doesn't necessarily mean emblazoning your logo everywhere. While that design element might work for some spaces, other spaces could call for subtler elements.
One way to creatively make the space your own is to tie the space to what you do. Red Cross Blood Processing Service in Melbourne achieves this by decorating the walls of their meeting rooms with blood type lettering. This gives a shout out to the mission and goals of the organization, and makes the meeting room truly a Red Cross meeting room.
While Adidas Shanghai prominently includes the Adidas logo in the conference room, the highlight is actually the 3 strips of white that evokes Adidas's iconic brand. Combining that with the brand's classic black and white combination really strongly ties the meeting room to the brand, making it a great space for client meetings.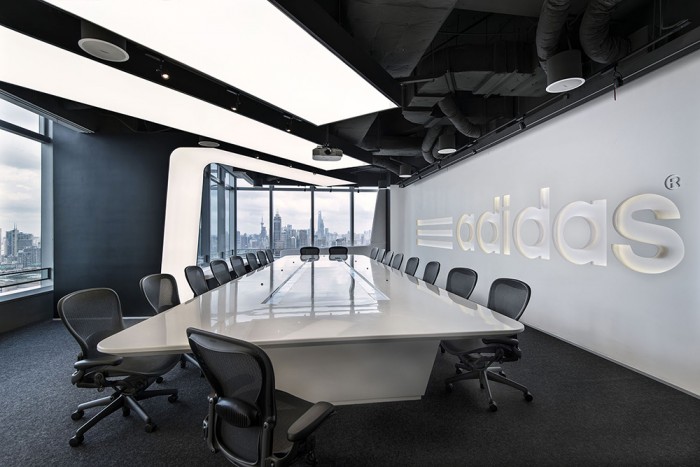 Other rooms in the Adidas Shanghai office maintain the black and white motif, but depict images of athletes as well as value statements. The decorations are still strongly tied to the brand identity and very clearly mark the space as Adidas.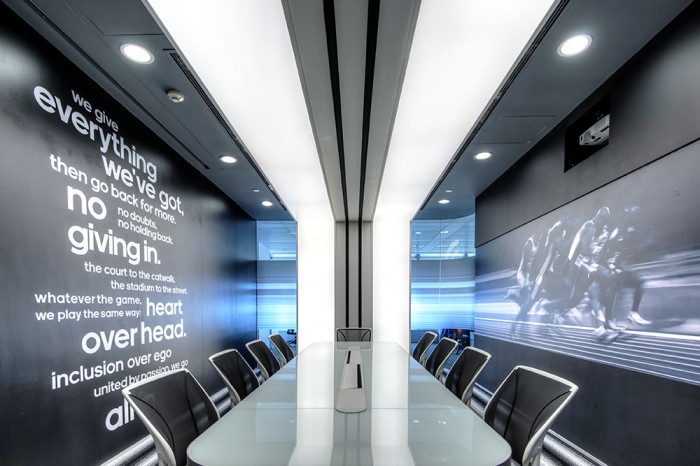 Don't be afraid to have fun!
Meeting rooms and spaces do not have to be stoic spaces devoid of personality. Adding elements of fun can help transform a dry boring meeting into an engaging, exciting one. What's important here is to keep in mind your workplace culture – embrace it and do not be afraid to include the more outlandish ideals.
Red Bull's Mexico office embraces fun, transparent meetings with this meeting and lounge space. Not having any walls creates a space that's open and inviting, as well as connected to the rest of the office. The playfulness fits with Red Bull's unconventional brand.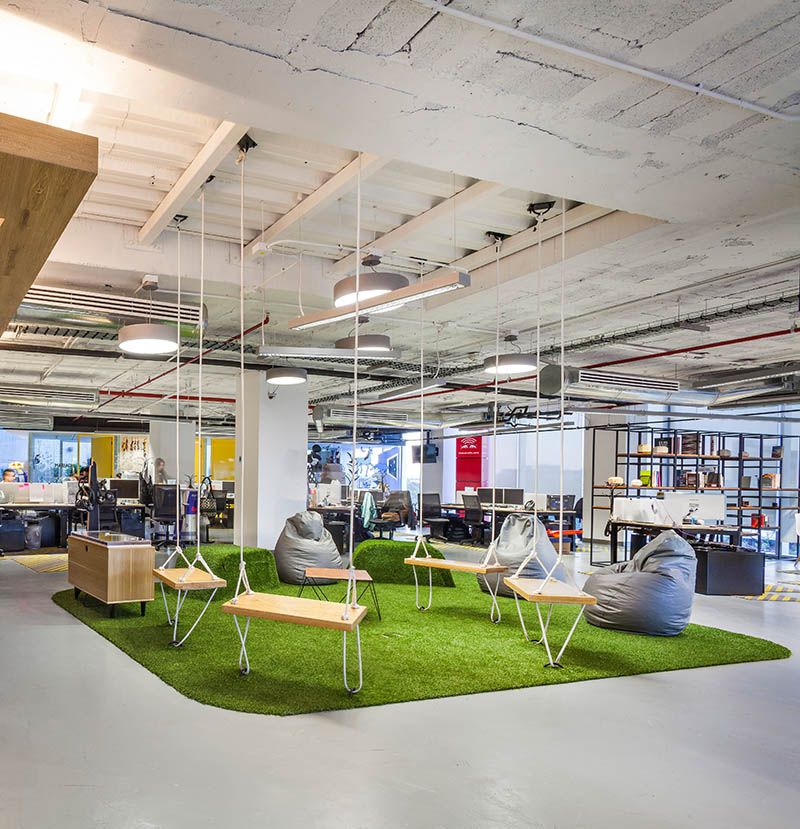 Facebook is infamous for the miNY room in New York, popularized through Instagram by celebrity guests. A miniaturized room, it features tiny furniture and a parody of Facebook's workplace culture. While more fun than functional, the room's purpose is to make a statement and create a strong memory for guests.
Have Excellent Meetings
Meetings are a huge part of our working life. Effective planning can improve the content of a meeting, but it is extremely important to consider your meeting environment and processes. Having a well-designed meeting space, that has fully considered how meetings will run, will help to significantly enhance the meeting experience for you and your attendees.
Designing a meeting space and want to simplify meeting room booking? Workscape can help – sign up for a free consultation now.